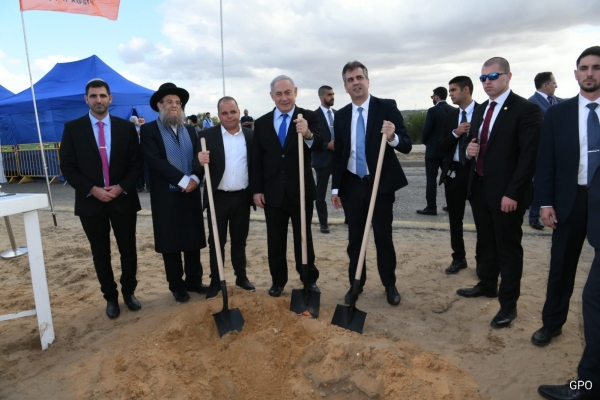 By Itzhak Rabihiya
Prime Minister Benjamin Netanyahu, today (Monday, 2 December 2019), in Ashkelon, participated in a cornerstone-laying ceremony for twelve new factories that will be opened in its industrial zone. Economy and Industry Minister Eli Cohen, Ashkelon Mayor Tomer Glam and the factory owners also participated. It is anticipated that approximately 1,000 jobs will be created in the city when the factories open.
Following is an excerpt from Prime Minister Netanyahu's remarks: "We are being challenged in very many sectors and on very many fronts, occasionally at a price that is too heavy to bear, but we are meeting this challenge. We have turned the State of Israel into a global force.
There will be no long-term arrangement with Gaza as long as the trickle continues. We will put an end to this; this is our policy. We are doing this very, very aggressively. You have seen our actions in recent weeks. I tell you all the time, including recently, that we have surprising operational plans, even more surprising than what you have seen. We will not tolerate this trickle. We will act to stop it.
The residents of Ashkelon, the area adjacent to the Gaza Strip and the south deserve the same quiet that the residents of the rest of the country deserve. We are working to bring about complete quiet, and it is only thanks to the deterrent power and strength of the IDF and of our security services that we are constantly seeing to the improvement of our plans.
It seems that entrepreneurs, citizens and contractors, and whoever is building here, understands and senses this, and I estimate that our enemies, as well, have internalized very much of what I am saying, and, if necessary, they will internalize it further.
I spoke yesterday with President Trump – a very important conversation for the security of Israel. We discussed Iran, but we also spoke at length about the historic opportunities that we will have in the coming months. Among them – the Jordan Valley as the recognized eastern border of the State of Israel as well as a defensive alliance with the US. These are things that we could only dream about, but we have the possibility of implementing them. Therefore, I submitted a proposal to Benny Gantz – let us realize these historic opportunities in a unity government to be formed now according to the format I have proposed. I have gone very far here towards this because we need to realize these opportunities.
We do not need another election. We need to establish this government now for the security of Israel, and the State of Israel, and the future of Israel."
Attached photo credit: Amos Ben-Gershom (GPO)