By Itzhak Rabihiya
Prime Minister Benjamin Netanyahu and his wife Sara, attended this evening (Tuesday, 54 November 2019), at the Waldorf Astoria Hotel in Jerusalem, an event in honor of the dedication of the new visitors center named, after former Canadian Prime Minister Stephen J. Harper, at JNF-KKL Hula Lake Park. The Prime Minister and JNF-KKL Chairman Daniel Atar awarded a citation to former the former Canadian Prime Minister for his contribution to JNF-KKL and the State of Israel.
Canadian PM Stephen Harper visit Israel on a four day trip this week. As part of his visit, KKL-JNF will be dedicating The Stephen J. Harper Hula Valley Bird Sanctuary Visitor and Education Center, which was announced at the JNF Negev Dinner 2013 in honor of the Prime Minister.
This cutting edge center, which will blend with the surrounding landscape, will allow many tourists and locals to enjoy nature in the Hula Valley. The center will educate the public on Hula Lake's birds and wildlife through recreational and educational activities throughout the year, and will draw more tourism to the Hula Valley and the surrounding Upper Galilee region.

The visitors center will provide a venue for connecting environmentalists and researchers from around the world, and will help foster relationships between scientific organizations internationally.
The centre's remarkable design is aesthetic, functional and innovative. Its wave-shaped structure blends in with the environment; an architectural expression of sustainability and of people coexisting with nature. The centre will serve as the entrance to the restored Hula Lake as well as an experiential education venue.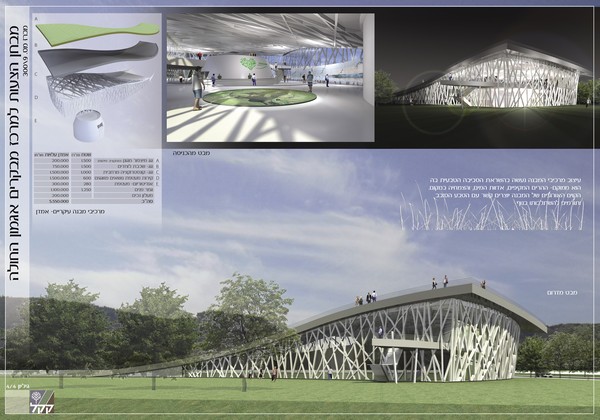 The visitor centre will enhance the Hula experience; it will serve as the foundation for visiting the site, arousing visitors' curiosity and interest in seeing the Hula itself. The centre will mesh with its surroundings both technically and thematically. The central themes will be presented in a manner to attract people of all ages and walks of life. Visitors who want to go straight out into the field will be able to pass through the centre to avail themselves of information, including the various modes of transport available. Some of the exhibits will be open to the public free of charge, while others in enclosed spaces will require an entrance fee.
Prime Minister Netanyahu's said in the event that "Iran expands its aggression. It seeks to envelop Israel. It seeks to threaten Israel. It seeks to destroy Israel. We fight back. And I also want to say, given Iran's efforts to expand its nuclear weapons program, expand its enrichment of uranium for making atomic bombs, I repeat here once again: We will never let Iran develop nuclear weapons. This is not only for our security and our future; it's for the future of the Middle East and the world."
Attached photo credit: Amos Ben-Gershom (GPO)