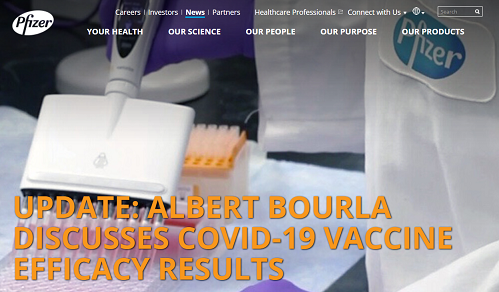 photo credit: www.pfizer.com
Aryeh Savir / TPS

Israel will seek to acquire Pfizer's new Coronavirus (COVID-19) vaccine, Prime Minister Benjamin Netanyahu declared Monday after the American company announced a breakthrough in its development. Pfizer and its collaborator, BioNTech, announced positive efficacy results from the Phase 3, late-stage study of its potential COVID-19 vaccine.
The vaccine candidate was found to be more than 90% effective in preventing COVID-19 in participants without evidence of prior SARS-CoV-2 infection in the first interim efficacy analysis.
"The results demonstrate that our mRNA-based vaccine can help prevent COVID-19 in the majority of people who receive it. This means we are one step closer to potentially providing people around the world with a much-needed breakthrough to help bring an end to this global pandemic," Pfizer stated.
"This is a first but critical step in our work to deliver a safe and effective vaccine," the company said.
Netanyahu noted that "today is a very important day in the global struggle against the corona virus. In my estimation, several other companies are also advancing toward this goal. We are also advancing with our vaccine; it will take more time." Israel's Brilife vaccine began its human trials phase last week and is not expected to be ready before the summer.
"However, one thing is clear. Not long from today, it will not be years but months, there will be vaccines that will be available for the population of the world. My goal at the moment is to do one thing – bring vaccines to you, citizens of Israel, and we will do so," he stated.
"This means that the end is in view. I said a few days ago that I see light at the end of the tunnel. I think that train is already exiting the tunnel," he added. Israel has signed contracts with a few companies developing a vaccine but not with Pfizer.
Sources reported that Israel will attempt to obtain the vaccine through the US government and not directly from Pfizer, as Israel is a small market and would not be on Pfizer's priority list for marketing.
for more details on the test result, go to https://www.pfizer.com/news/hot-topics/albert_bourla_discusses_covid_19_vaccine_efficacy_results