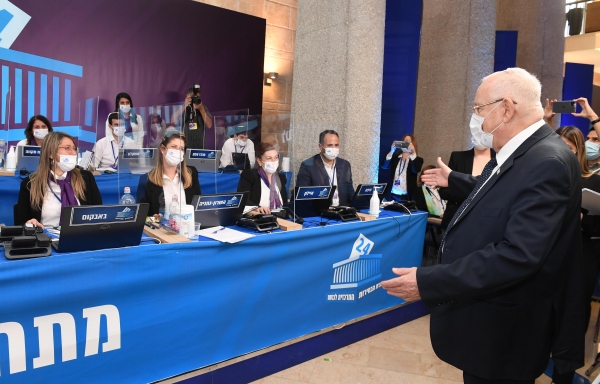 BY ITZHAK RABIHIYA / SNN, Space Network News

President says elections is 'The Holy of Holies,' but fourth national vote in 2 years undermines public trust; PM votes with wife, calls elections 'a holiday for Israel, a day of joy and smiles'; by 10am, 14.8% of Israelis cast their votes
Israel's top officials, including President Reuven Rivlin and Prime Minister Benjamin Netanyahu, cast their ballots on Tuesday, urging Israelis for follow in their footsteps as the country was headed for the polls for the fourth time in two years – ynet news reports.
Israelis began voting on Tuesday, with polling stations opening at 7am and exit polls expected at 10pm, when the stations close. By 12pm, 25.4% of Israelis cast their votes, much lower than the same figure reported during the previous national vote.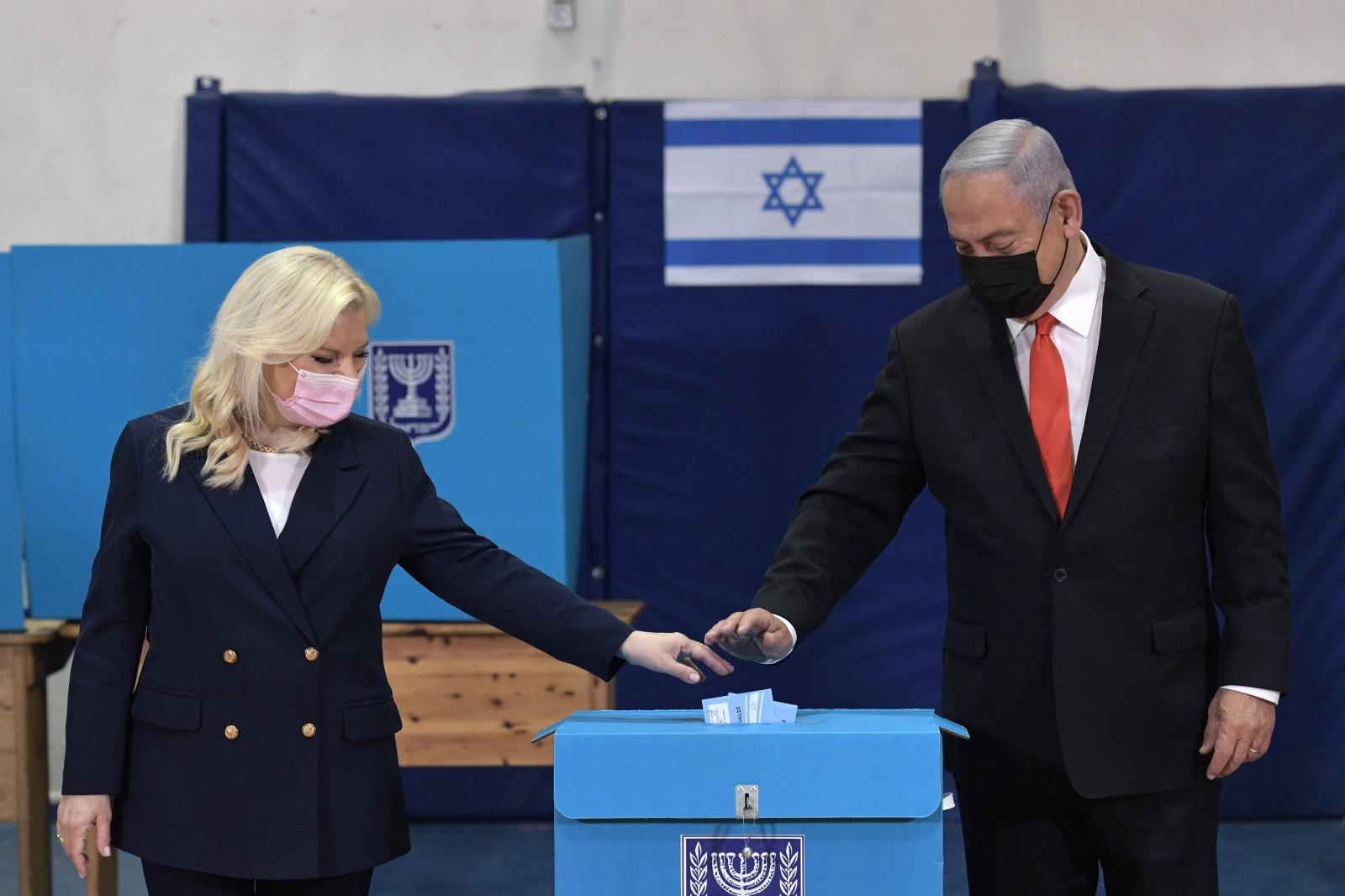 Prime Minister Benjamin Netanyahu and his wife Sara today (Tuesday, 23 March 2021), at the Beit Chinuch Ironi Gimmel high school in Jerusalem, cast their ballots. Netanyahu said: "This is a holiday for Israel, a day of joy and smiles. We are going out in order to realize the democratic right. For me it is very moving to come with my wife, who just had a very difficult week. I am grateful for all the wishes from all citizens of Israel. You touched our hearts and moved us and it is wonderful to see you, Sara, healthy as you go to vote. It also moves me to come here, 100 meters from the place where I studied in first grade, and to come back here and vote in our state, which is a global wonder. I call on everyone to go out of your homes and realize the democratic right to vote."
Some 6,578,084 Israelis are eligible to vote, with 13,685 polling stations set up across the country. At least 751 stations are dedicated to coronavirus patients and those in self-isolation, including one set up at Ben Gurion Airport.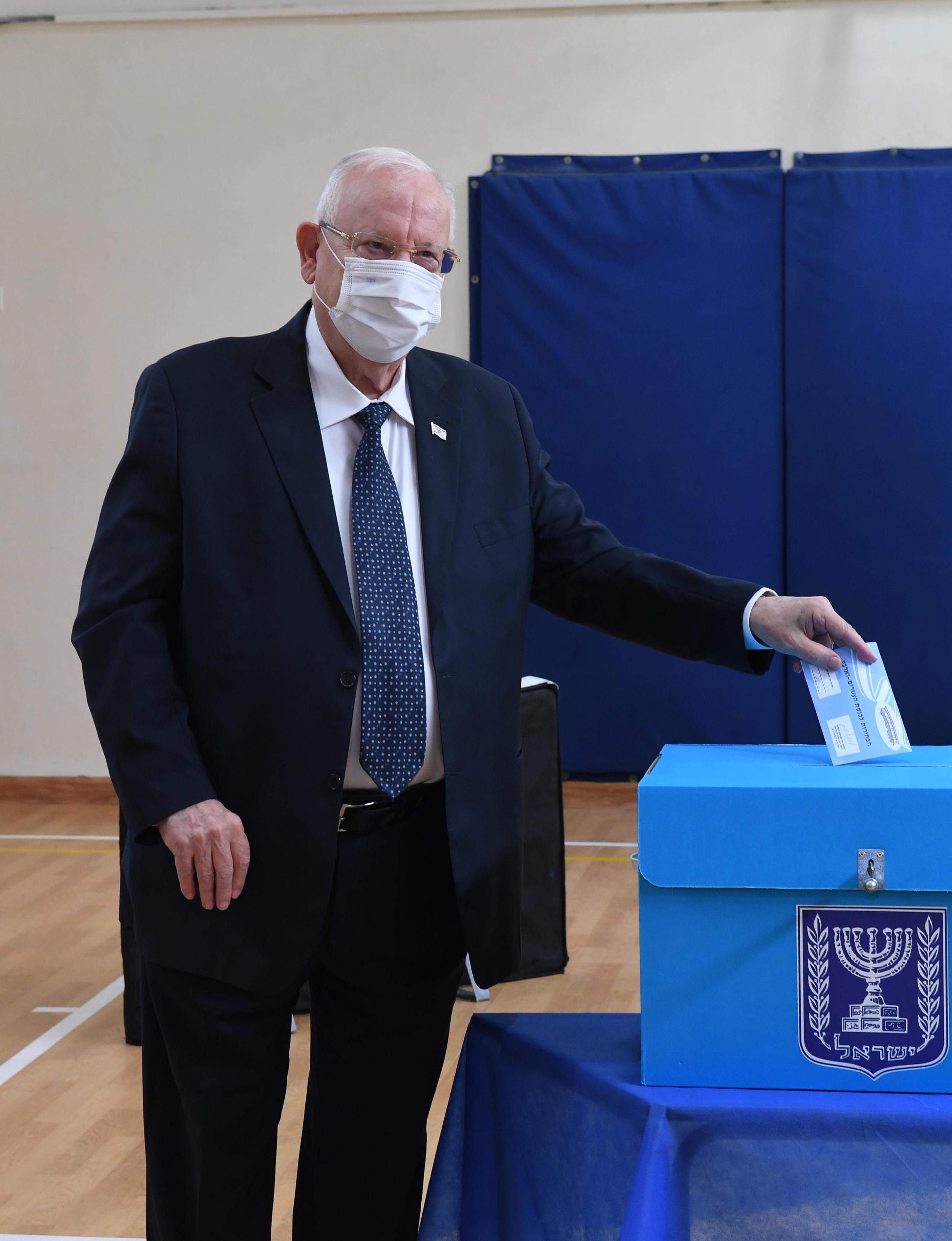 Rivlin voted at a polling station in Jerusalem, where earlier, delays and technical malfunctions were reported. He called the elections "The Holy of Holies" but added the multitude of national votes reflects negatively on the government. "Go out and vote. I am doing this for the last time as president, but also as a very concerned citizen," he said. "The Knesset elections are The Holy of Holies of our democracy, but a fourth election campaign undermines the public's trust."
Bennett, who is celebrating his 49th birthday, voted in his city of Raanana. "I call on everyone to go out and vote, to bring about a change of government," he said while leaving his house.
Saar voted with his wife at a polling station in north Tel Aviv. "This is an exciting day for me." Three and a half months after I formed 'New Hope,' this is the first time it has stood the electoral test of the Israeli public. We have a clear path and a great hope for the future," he said.
Last election's main challenger - Blue & White Chairman Benny Gantz - voted at a polling station in his hometown of Rosh HaAyin. Gantz called on the public to vote, warning that "otherwise, we will not even reach the fifth election, there will be a different regime here."
Meanwhile, Meretz Chairman Nitzan Horowitz voted near his home in Tel Aviv. "This is the closest election in years. If Meretz [receives enough seats], Netanyahu will not have his government of the ignorant."
Latest public opinion polls forecast a tight race between those who support Israel's longest-serving premier and those who want "anyone but Bibi," as he is widely known.
Attached photo credit: Koby Godeon (GPO)

SNN, Space Network News (www.spacenetworknews.com)