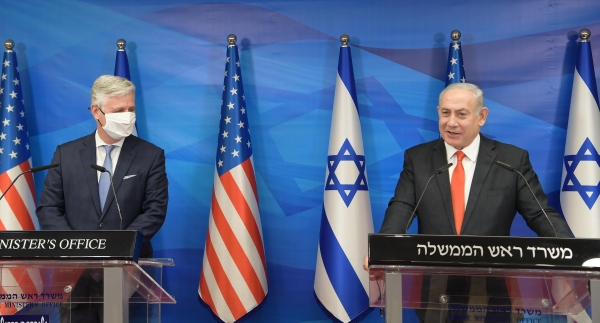 PM Netanyahu Meets with US National security Adviser Robert O'Brien: "US and Israel are working together closer than ever before"
By Itzhak Rabihiya / SNN, Space Network News
Prime Minister Benjamin Netanyahu met this afternoon (Sunday, 13 December 2020), with US National Security Adviser Robert O'Brien
Netanyahu said that Under President Trump, the United States and Israel are working together closer than ever before. We cooperate together to foil common threats. We cooperate together to bring about peace. In both areas, we've produced amazing progress. He added that The Abraham Accords have brought about historic breakthroughs for peace with four Arab countries: the UAE, Bahrain, Sudan and now with Morocco. This is creating enormous excitement in Israel. Israelis now are faced with a great dilemma. Where to go? Dubai or Morocco? Abu Dhabi or Morocco? I'm sure we'll resolve that one. We'll go to both. "None of these breakthroughs of course would have been possible without the participation and active involvement and leadership of President Trump and his able team. So once again, I say thank you President Trump."
Netanyahu said also that President Trump recognized Israeli sovereignty over the strategically crucial Golan Heights. Our close national security cooperation is also evident in our efforts to roll back Iran's aggression and stop its frantic race to the bomb. Instead of coddling the tyrants in Tehran, President Trump has adopted the policy of maximum pressure. This is a policy that I have to say is widely supported across the Middle East.
Both Israelis and Arabs praised President Trump when he pulled out of the failed Iran nuclear agreement, when he re-imposed and beefed up tough sanctions on Iran, when he took out the Iranian arch terrorist, Qasem Soleimani. When Israelis and Arabs agree on so many things, it makes sense for the world to pay attention. After all, we live in this region. We know something about it.
As long as Iran continues to subjugate and threaten its neighbors; as long as Iran continues calling for Israel's destruction; as long as Iran continues to bankroll, equip and train terrorist organizations throughout the region and the world; and as long as Iran persists in its dangerous quest for nuclear weapons, and the means to deliver them, we shouldn't go back to business as usual with Iran. We should all unite to prevent this major threat to world peace.
I say world peace because today, the Islamic Republic of Iran is still a nasty neighborhood bully. But, if unchecked, tomorrow Iran will arm itself with nuclear tipped ICBMs that can target Europe and America and it will become a global bully, which will endanger everyone. All this must be prevented and all this can be prevented. On this, all America's friends in the region agree, and I know Robert that you agree as well.
Attached photo credit: Amos Ben-Gershom (GPO)