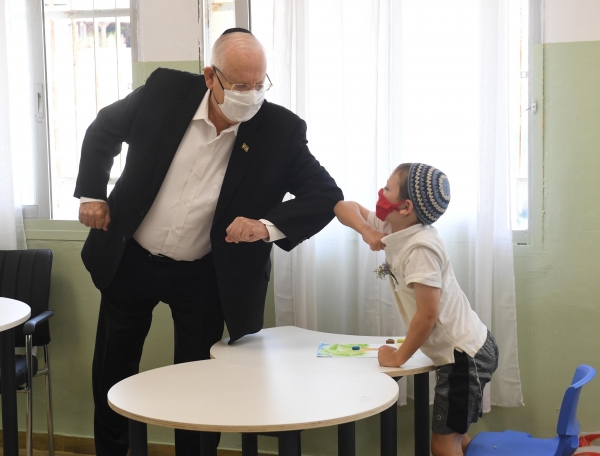 By Itzhak Rabihiya (SNN, Jerusalem) - President of the State of Israel Reuven Rivlin this morning, Tuesday 1 September opened the 2020-21 school year at the new Gesher elementary school, which opened for the first time today, in Beit Shemesh. The president was escorted by Mayor of Beit Shemesh Dr. Aliza Bloch.
"Good morning to the first grade, Shalom Kita Alef!!" the president greeted the excited children waving Israeli flags and singing. The president told the new schoolchildren of his first day in the first grade, a day he remembers well now as a grandfather. "Until today, I remember the moment I went into first grade. I remember my teacher, Hava. You can't forget your first-grade teacher. Today, you officially go from being 'children' to 'students'. You are already big kids."
The students told the president about the schoolbags they had got ready and about the transition from kindergarten to first grade.
The president said, "this year begins under special circumstances because of the limitations needed to fight the coronavirus pandemic. This year, our dear schoolchildren, you have an extra responsibility: to look after yourselves and your health. I want to wish all of Israel's schoolchildren, from kindergarten to 12th grade, a good, healthy and safe school year, and that we all get back to our normal routines soon
Gesher, a school which opened this year is a school that will grow each year and has 22 students in first grade this year. It is part of the state-religious stream and follows the anthroposophical model of education with an emphasis on pedagogical innovation.
From there, the president continued on his visit to the Tafnit special education interdisciplinary middle school for students with behavioral and severe emotional challenges. The president was escorted by the principal of the school, Orna Mualem. The president met with students Neria Amar, Yaakov Elmaliah and Aviel Ben Ezra, who told him about what had brought them to the school and the changes that learning there had brought.
The president heard what the students had to say and remarked "it is truly heart-warming to hear about Tafnit, about the changes it has made to your lives. As president, I often come across requests for pardons from young people who have made mistakes but have found the strength to make a change. The past cannot be erased, but we can turn over a new page. We can grow stronger and better, with the benefit of experience, from mistakes. We cannot make a change without support. I know that the teachers who are with you at this school have a big part to play in the course of your lives. The role of any school, especially one like Tafnit, is to believe in every student, and to give them the tools with which they can develop, dream, dare and realize." The president said the students at the school were an inspiration for many and a source of pride and hope for their teachers.
Attached photo credit: Mark Neyman (GPO)