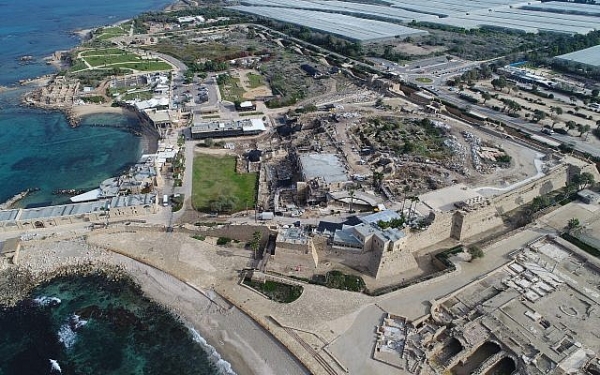 By Itzhak Rabihiya
The recent rains have uncovered many artifacts, but 13-year-old Stav Meir had the skills to understand what he found while foraging for mushrooms
."I immediately recognized that it was something ancient," the seventh-grader from Caesarea said.
A week ago, after the rain battered the country in one of the many waves of bad weather that have hit Israel this January, 13-year-old Stav Meir went searching for mushrooms with his father, siblings and cousins. One of the thousands of Israeli youngsters who have participated in an education program offered by the Israel Antiquities Authorities (IAA), Stav ended up uncovering something much more unexpected: a 1,500 Greek inscription dating back to the Byzantine period.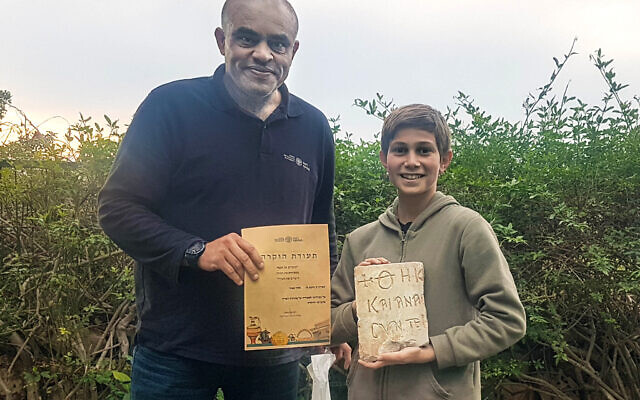 "I immediately recognized that it was something ancient," the seventh-grader from Caesarea said, according to an IAA statement. "I studied archeology in school together with the Israel Antiquities Authority, therefore I can easily identify antiquities when I see them."
The white stab protruding from the ground uncovered by the boy turned out to be part of a burial inscription, as Peter Gendelman, a Caesarea researcher at the IAA, explained, pointing out that the inscription indicates the name of the deceased and the location of the grave within the cemetery.
"The grave of .... and of Anastasius, or Anastasia…," the inscription read, according to the IAA.
"Already, in ancient times, Caesarea was a center of attraction for a wealthy population. The quality of the slab discovered by Stav indicates the wealthy status of the person entombed, as well as the customs and beliefs of inhabitants of Caesarea in the Byzantine period. This inscription joins a large collection of burial inscriptions previously discovered around ancient Caesarea," he said in a statement.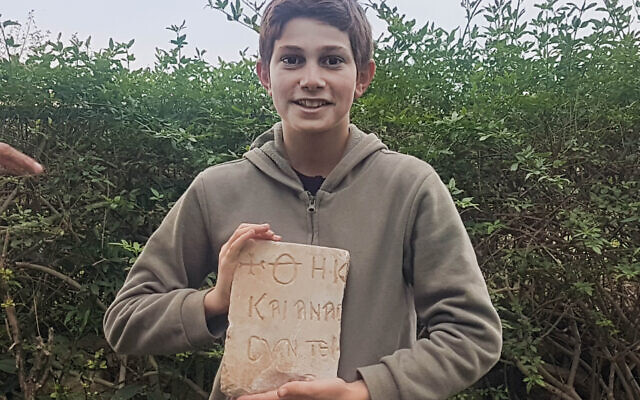 Stav is one of the thousands of Israeli schoolchildren that each year take part in educational programs organized by the IAA.
"We have five IAA educational centers working with schools and children all over the country," Einat Kashi, who is responsible for the center located in Haifa,
According to IAA archaeologist Dr. Peter Gendelman, the book-sized marble slab is a burial inscription with an X or cross marking the spot of the grave of the wealthy individual interned there. Gendelman gave a preliminary reading of the inscription, which he said identifies the person: "The grave and of Anastasius, or Anastasia …"
The port city of Caesarea was built by Herod the Great and named after the emperor, Caesar Augustus, just prior to the Common Era. It was wiped out in circa 115 CE by a tsunami that was triggered by an earthquake in Turkey. The city was rebuilt in various formats in the centuries that followed.
By the Byzantine era, Caesarea was the capital of the Palaestina Prima province and home to a mixed Greek- and Aramaic-speaking population, in which Jews were the minority.
According to the IAA's Gendelman, the tombstone piece is of a high quality that "indicates the wealthy status of the person entombed, as well as the customs and beliefs of inhabitants of Caesarea in the Byzantine period. This inscription joins a large collection of burial inscriptions previously discovered around ancient Caesarea."
Meir's father, Zohar Meir, said in an IAA video that Stav and his other children have studied archaeology in their Caesarea school since 4th grade. "It's an amazing thing," said father Zohar. "They go out in the field, learn our history, find interesting things, go on hikes. And I'm happy that on the heels of these studies, he gained the skills to come and tell me that he found something that is of some worth, and to essentially give the 'present' of what he found to the IAA and essentially all the citizens of Israel."