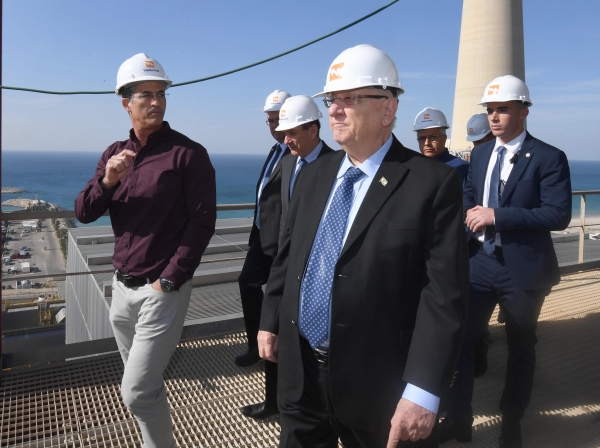 By Itzhak Rabihiya
President Reuven Rivlin today, Monday 18 November, visited the Israel Electric Company's Rabin power plant at Hadera. The president was escorted by IEC CEO Ofer Boch and Chairman of the Board of Directors Yiftah Ron-Tal.
The president toured the power plant and its central control room, where he was briefed on the process of generating electricity by the plant's workers, particularly the IEC's transition to generating electricity from natural gas. "The Israel Electric Corporation, that was founded before the State of Israel, was a pioneering and innovative organization that knew how to adapt to market conditions and changes in the geo-political situation," said the president. "Now, when we face the worrying effects of climate change, we must work to develop and incorporate renewable energy that is environmentally friendly. I hope the IEC will meet that challenge, too. Thank you for working around the clock to ensure that every home in Israel has power."
The president then met IEC workers with special needs who work in all parts of the company. The president spoke to Eyal, who was badly injured 16 years ago in the terrorist attack on a bus at Har Meron when he was a soldier. Eyal lost his sight and has a seeing dog. The president heard from Eyal how he found a workplace at IEC and how fulfilling his work is.
After briefing the president on the IEC's reform plans, Chairman of the Board of Directors Yiftah Ron-Tal said, "If we have managed to get agreement on these reforms in the IEC, then it is possible to form a government. This reform will bring not only growth but also a reduction in the cost of living in Israel. As soon as next year, the price of electricity will fall."
Attached photo credit: Mark Neiman (GPO)