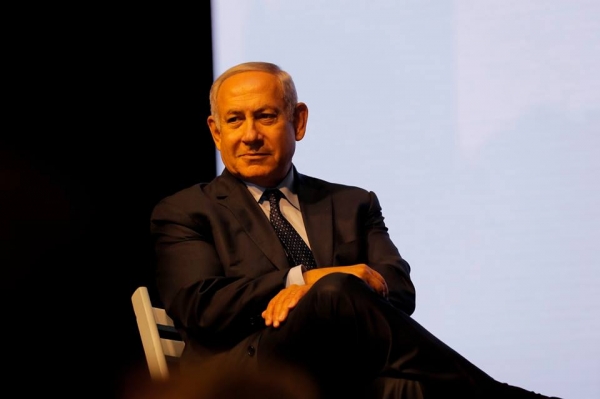 By Itzhak Rabihiya
Prime Minister Benjamin Netanyahu must answer charges of bribery, fraud and breach of trust in the Jerusalem District Court. PM also calls for the trial to be broadcast live; Earlier during a cabinet meeting, neither PM nor his ministers addressed the corruption trial, set to begin at 2pm; 'I hope the justices will do justice,' said Regev, who also arrived at Jerusalem's courthouse to back Netanyahu. Prime Minister Benjamin Netanyahu slammed the corruption charges against him as "slanderous and delusional" as he entered the Jerusalem courtoom on Sunday, to hear the arraignment against him – Y net news and Associated Press reports.
Netanyahu along with his entourage arrived at the Jerusalem District Court close to 2:30 pm, after his request to have his lawyers represent him instead was rejected. Netanyahu's co-defendants Shaul Elovitch and Arnon Mozes, Ynet publisher, also arrived at the courthouse for the opening hearing.
Prime Minister Benjamin Netanyahu's lawyers have asked for a spring 2021 trial start date on Sunday – the Jerusalem post reports. Micha Feitman said they would need two to three months just to know what their trial strategy would be. After that they would file pretrial motions to seek acquittal without witnesses and motions to attack prosecution claims to keep some documents confidential, he said.
Netanyahu tried to avoid having to attend the first day of the trial but the prime minister was compelled to attend by the court. On Sunday, the judges asked the defendants' lawyers if they will accept not having to have the defendants present at the next procedural hearings, which they accepted.
"They've sewn slanderous and delusional cases," said the prime minister in a statement shortly after arriving at the courthouse. "The objective is to topple a strong prime minister from the rightist camp and thus to remove the right-wing from leadership for many years." He called for the court proceedings to be broadcast live on TV to ensure "full transparency ... I stand before you with a straight back and head raised high," he said. "I want the public to know the whole truth and therefore I demand from the court complete transparency. Let it all be broadcast live, uncensored and unedited."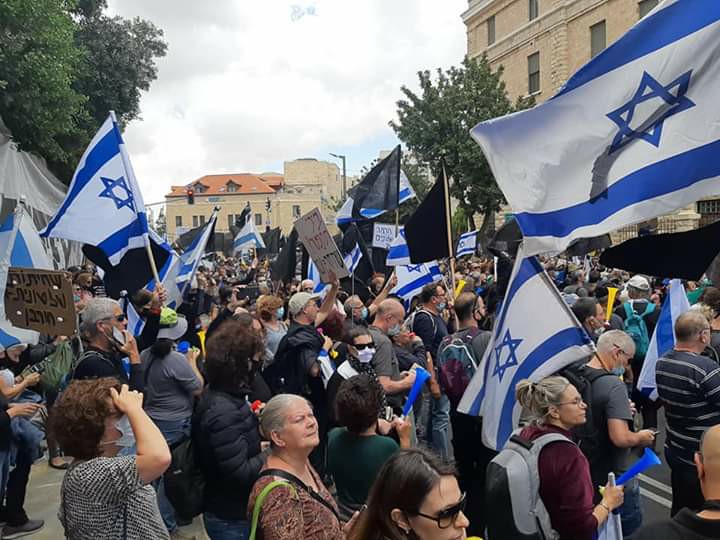 Medial outlets and large crowds of pro and anti-Netanyahu protesters began gathering outside the court, hours before the opening hearing. Meir Dahan, 52, from Yavne, was one of the first to arrive outside the courthouse. "The accused from right-wing bloc is sitting on the defendants' bench," he said. "He wins elections one after the other, but his values do not match the values of the left, they need to overthrow our leader," he added.
"The entire right-wing camp is sitting on the defendants' bench and as a defendant, I arrived at the courtroom." In addition, several of Netanyahu's Likud party ministers, including the newly appointed Internal Security Minister Amir Ohana and Transportation Minister Miri Regev, arrived to back him.
The people had their say at the ballot box," said Regev. "I expect the judges not to fall into the trap set up by the media. I believe in the prime minister. I really hope the justices will do justice." The dramatic scene comes just days after the long-serving leader swore in his new government, breaking more than a year of political stalemate following three inconclusive elections.
Earlier, Netanyahu held his first cabinet meeting with the new government just hours before heading to court. Neither he nor any of his ministers addressed the looming trial but the country's outgoing religious affairs minister wished Netanyahu that "God will bring the truth out" at his trial. Opposition leader Yair Lapid accused them of fomenting violence and trying to intimidate the judges. "Netanyahu is trying to drag us into a civil war to save himself from trial," he told Ynet.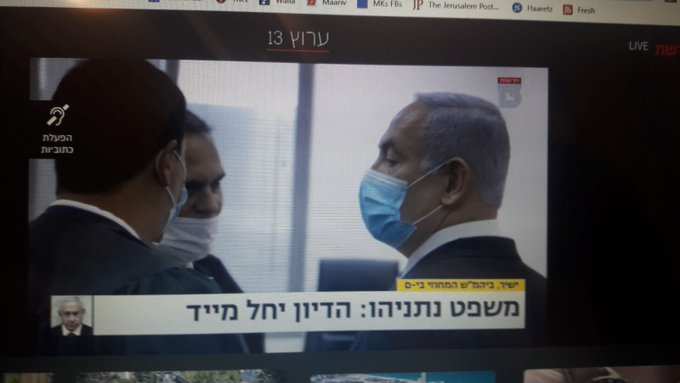 Netanyahh's proceedings were supposed to begin in March, but were delayed by his justice minister who issued restrictions on the courts amid the coronavirus crisis.
He faces charges of fraud, breach of trust, and accepting bribes in a series of corruption cases stemming from ties to wealthy friends. He is accused of accepting lavish gifts and offering to grant favors to powerful media moguls in exchange for favorable coverage of him and his family.
He denies the charges and has lashed out at the media, police, prosecution and courts of forging a conspiracy to oust him. It comes after years of scandals swirling around the family. Due to fights over potential immunity, the Netanyahu indictment was not filed until January 28 – and due to the election and the coronavirus crisis, the trial's start date was delayed by several months.
In Case 4000, Netanyahu is accused of involvement in a media bribery scheme in which Walla owner Shaul Elovitch allegedly gave him positive coverage in exchange for the prime minister making government policies favoring Elovitch's Bezeq Company to the tune of around NIS 1.8 billion.
This is the hardest case for Netanyahu since he faces accusations by two close former aides turned state witnesses, Shlomo Filber and Nir Hefetz.
In Case 1000, Netanyahu is accused of receiving hundreds of thousands of shekels in gifts from rich tycoons, mostly from Arnon Milchan, in exchange for help with business and personal-legal initiatives.
The charge itself is for acting in situations in which the prime minister had a conflict of interest, since no actual quid pro quo can be proven. The absence of a quid pro quo makes this case much weaker than Case 4000, but it is still viewed by most legal scholars as having at least a 50/50 chance.
Regarding Case 2000, Netanyahu was accused of working with Yediot and Israel Hayom to reduce the latter's competition with the former in exchange for positive coverage of Netanyahu.
The deal never went through, but the law has crimes of attempted bribery and breach of trust which can apply nevertheless. Mandelblit was never a fan of Case 2000, but decided he needed to charge Netanyahu with something once they indicted Yediot owner Arnon "Noni" Mozes with bribery.
Sunday's hearing will be mostly technical, with the lawyers fighting over whether the prosecution must transfer more documents to the defense, but the judges will also set a case schedule, which will signal how fast the case will proceed.